Facebook Research Team's Groundbreaking Projects
Facebook is widely considered to be a social network, but it has recently forayed into the research and development of science and hardware.
At the recently concluded F8 Developers' Conference, several new projects were announced. While a great number of them are "experts-only" projects that revolve around codes and whatnot, we identified a couple that will have a more direct impact on our daily lives.
1. Typing With Your Brain
Imagine answering a poll just by thinking about the answer, or drafting a message by verbalising it in your head.
The novel concept could become reality as early as 2018, courtesy of Facebook's research and development team, Building 8.
The elusive "all-star" department is currently working on a "brain-to-text" solution that allows them to scan your brain over 100 times per second, before converting your thoughts into text on-screen.
Slow typers can rejoice as well — the technology aims to enable users to type at 100 words per minute. It will also open up new possibilities for the disabled to interact with the application.
While it remains to be seen if the social network can bring this idea to fruition, Facebook thinks their project is ultimately more than a pipe dream.
The social network has invested in big-name veterans to develop the concept, and one of whom is Mr Mark Chevillet, the highly qualified neuroscientist responsible for developing a mind-controlled prosthetic arm during his time at Johns Hopkins University.
2. Hearing Through Your Skin
Technically, hearing via your skin is not exactly a foreign concept.
Companies like AfterShokz have developed earphones that utilise bone conduction as a medium for transmitting audio signals. While humans do possess the ability to hear sounds through our bones (that's how we hear our own voices), we use our eardrums more frequently.
The soundwaves from whatever we're listening to get converted to vibrations, and those are then transmitted into the cochlea, a cheem term for "inner ear".
But Facebook wants to take things a little further.
It wants to enable our skin to mimic the cochlea and translate the sounds we're hearing into specific frequencies for our brains. They even tested it out on a human guinea pig and the results were fairly optimistic — he managed to pick up a grand total of nine words.
While the jury is still out of the project's feasibility, success could allow the hearing-impaired to regain their hearing, since the technology bypasses the ears completely.
And with the might of Facebook backing this audacious experiment, it seems the technology will become reality sooner rather than later.
3. Shooting Gorgeous 360° Videos
On the back of an aggressive push into virtual reality (VR) content following its acquisition of Oculus, Facebook has unveiled its own 360-degree camera called the "Surround 360".
So, the next time an uncle aggressively asks you for homosexual intercourse on the MRT, or when a mean couple bumps you in the back for taking their seats at the hawker centre, you could simply whip out your 360-degree camera and capture the full picture — literally.
Good luck for the aggressors caught in such a situation. The badass rig features a whopping 17 lenses (not a typo) that captures video in an epic 8K-resolution (not a typo either).
To put things into perspective, current consumer-grade 360 cameras typically only utilise two wide-angle lenses.
360-degree cameras, while gaining massive prominence in the past couple of years, have largely failed to catch on and leave much to be desired. That has not stopped Facebook, however, from encouraging artists, filmmakers and news agencies to create content in 360 degrees.
Facing stiff competition from Google's "Jump", which is essentially 16 GoPro cameras cobbled into a UFO-sque rig and Nokia's (yes, that Nokia) Hollywood-ready Ozo camera, it's a toss up as to whether Facebook's take on the controversial format will pay off, particularly with its high price of $30,000.
The camera does include genuinely game-changing image processing and an open-sourced backend for developers to fiddle with. Should the social media tweak its algorithm to favour 360-degree videos, we could be ushering in a new era of content creation from as early as 2018, as publishers flock to the new format in a bid to engage more viewers.
4. Hanging Out With Friends In Virtual Reality
Why make the effort to dress up, squeeze with commuters on the MRT and exhaust yourself before you even meet up with your friends, when you could meet up with them in virtual reality?
Facebook Spaces is the social network's latest offering in virtual reality, allowing a party of four to hang out with each other while being represented by a goofy avatar.
You can talk to each other, draw 3D objects, teleconference and even take VR selfies, all in a virtual environment that's extraordinarily immersive.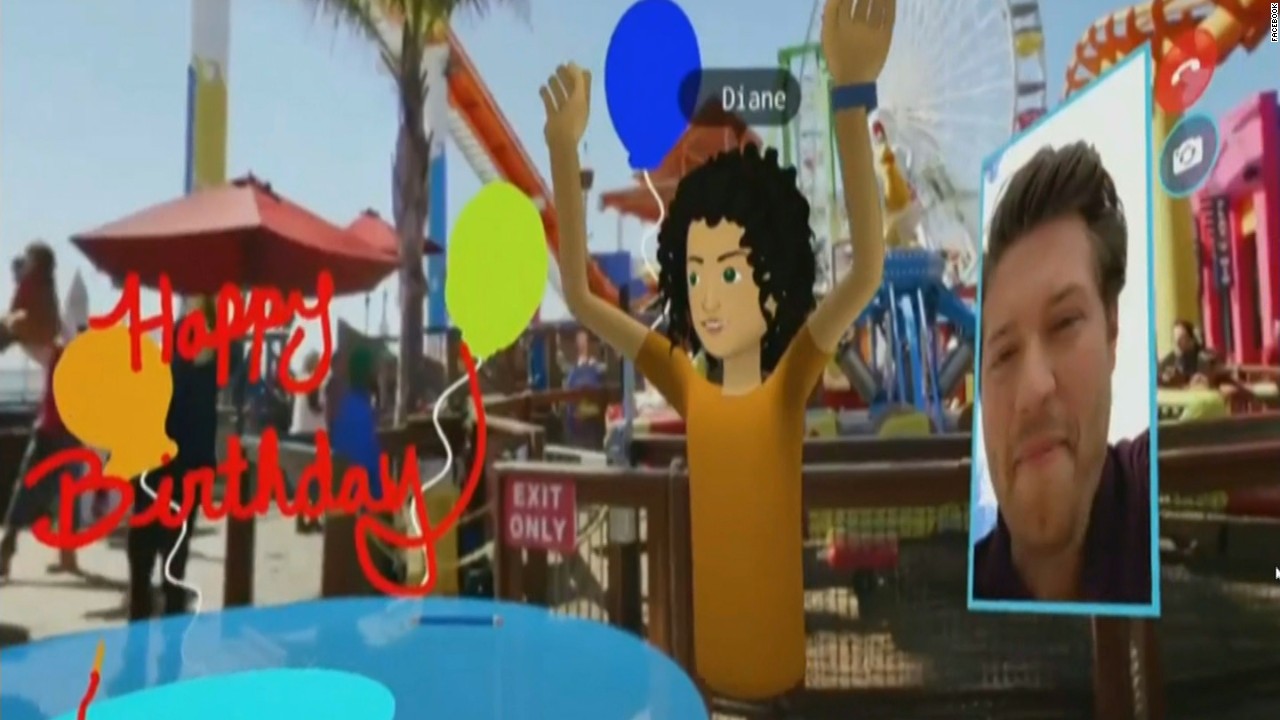 Why head down to the kopitiam when you can just warp a 360-degree image of it in your "space"?
It's not exactly healthy for the eyes though.
It is currently only compatible with the Oculus Rift Headset and Controller, but Facebook plans to release it to other VR devices down the road.
5. Making Your Own Frames & Filters
Why use Snapchat's frames and filters when you can create and personalise your own?
Over the past few months, Facebook has been blatantly cloning features from the former, but founder Mark Zuckerberg claims that he was just "laying the groundwork" to, you guess it, borrow further from Snapchat.
With the introduction of AR (augmented reality) Studio, developers could design their own filters for use on Facebook's Camera Effects platform. The complexity of the code required is directly proportionate to the amount of interactivity desired.
That means that having fire spew out of your mouth is going to take more skill and effort than a mask tracking your face upon detection.
Facebook has also introduced the Frame Studio, which is significantly less complicated than its AR counterpart. Creators can simply upload static images and have them appear at a certain location, or have them unlocked only after a certain page is "liked" should their users want to use them.
For brands and content creators, the eventual option of monetisation opens up a wealth of opportunities to capitilise on the soaring potential of AR. The creative possibilities are endless, and with users' attention spans gradually decreasing, we are on the verge of ushering in a new era for content creation, one that relies greatly on interactivity.
Exciting Times Ahead
Singaporeans spend an average of over two hours on social media daily, and with Facebook's new tools coming into play soon, we might be looking at an even more Internet-addicted population on our island.
At the same time, the new innovations will undoubtedly be of massive benefit to the disabled — kudos to the Facebook team.
Hopefully, content creators here would be able to catch on and create multimedia that's even more exciting and engaging.
Featured image from SlashGear