Political Power Couples In Singapore
When February rolls around, most of us only have Chinese New Year, reunions, and pineapple tarts on our minds.
Let's forget that for a second, because it's Valentine's Day.
As the saying goes, behind every great man, is a great woman.
Source
And in this case, behind every great politician, there's a great spouse.
We take a look at 8 of Singapore's political power couples that are totally ship-worthy.
1. Lee Kuan Yew and Kwa Geok Choo
Many people remember Lee Kuan Yew's as the steely and determined founding Prime Minister of Singapore.
What most people don't know, however, is a softer side to him when it came to his wife, Mdm Kwa, who was a lawyer.
Source
They secretly got married in 1947, and shared 63 happy years together.
Mr. Lee was incredibly devoted to her, reading to her every night without fail when she suffered a stroke and became bedridden.
When she passed away, he was devastated. During her period of sickness, even though Mr. Lee was agnostic, he would still pray for her health to improve.
We're not crying, you are.
Source
2. Ong Teng Cheong and Ling Siew May
Singapore's first elected president and his wife, Ling Siew May, an architect, first met at a Christmas party in 1952.
They became closer when they performed in a joint play between their schools, with both of them taking on lead roles.
That sounds like a love story straight out of High School Musical, if you ask us. After being together for a period of 10 years, they finally got married in 1963.
Source
Sadly, Mrs Ong was diagnosed with cancer which she fought for two years. Despite this major setback, she still continued to serve and support President Ong as First Lady.
At events, even though President Ong was on duty, he'd watch Mrs Ling carefully for any signs of pain and would leave immediately once he realised she felt uncomfortable.
That's true love right there. Meanwhile, we can't even get a text back.
3. Vivian Balakrishnan and Joy Balakrishnan
Even though our Minister for Foreign Affairs and his wife – a former teacher – have been married for 30 years, they've chosen not to disclose much of their relationship to the public.
They've generally kept their personal lives under wraps, which could explain why they've managed to have such a long and happy marriage.
What we do know is, they have four children together. You can check out a touching speech he made at his daughter's wedding here.
Mr Balakrishnan shared that,
The most important gift you can give your children is to love their mother.
Which succinctly sums up their dedication to each other and their children perfectly.
4. Louis Ng and Amy Corrigan
Again, not much is known about Mr. Ng and his wife's relationship.
Even so, it is very clear to see that the Member of Parliament and his wife are deeply in love with each other.
They share the same values when it comes to animal welfare, with both of them being vegetarians.
Source
Late last year, when Mrs. Corrigan was expecting twins, she unexpectedly gave birth to her babies 10 weeks prematurely.
Mr. Ng took time off to be his wife's side during this difficult time.
Aww, we wish them and their babies the best of luck.
5. Halimah Yacob and Mohamed Abdullah Alhabshee
Our current President met her husband while they were both undergraduates at the National University of Singapore.
Source
Mr. Alhabshee's love for his wife is very clear, as she shares in an interview that he made many sacrifices for her.
She famously stated,
Whenever we have any difference in opinion, as all couples do every now and then, I remember why I married him. I remember the sacrifices he made for me. And this makes it easier for us to work things out.
He also agreed to invite his mother-in-law, Mdm Halimah's mother, to live with them even though they were newlyweds.
To be honest, we still don't know if we should refer to him as the First Husband or First Gentleman.
But that aside, there's no denying that they're a super adorable couple.
6. Lee Hsien Loong and Ho Ching
Sadly, Mr. Lee's first wife passed away due to a heart attack when she was only 31.
Despite this, Mr. Lee was fortunate enough to be able to find love again with his second wife, Ms. Ho Ching — a capable CEO in her own right.
Source
Although they're both busy and extremely hardworking individuals, they somehow still manage to find time to travel together.
Mr. Lee provides snapshots into their lives from time to time.
From walking around Orchard Road to dreamy backhug couple shots in Korea, this couple definitely lives it up well together.
Source
7. Chee Soon Juan and Huang Chih-Mei
This Singapore Democratic Party leader and his wife Ms Huang Chih-Mei met while they were both doing their graduate studies at the University of Georgia in the United States.
From Ms Huang's personal blog entries, it's very apparent that Mr. Chee truly loves and supports wife.
She shared in an intimate post,
When I was offered a scholarship to do my PhD at Pennsylvania State University in the north, I wanted to think it over…Soon Juan encouraged me to pursue my doctorate. I still remember him saying, "You've got to have dreams in your life".
Source
He encouraged her to chase after her dreams despite the possibility of being apart. No doubt a selfless move which demonstrates his deep love for her.
They're clearly incredibly smitten with each other, even after so many years.
8. Chiam See Tong and Lina Chiam
Mr. and Mrs. Chiam are most definitely a power couple, with both of them serving the Singapore People's Party.
Their love of politics is evidently a strong point in their relationship, considering they get to work and play together.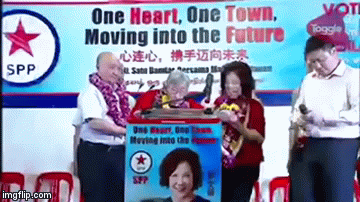 Mrs. Chiam helps her husband up the podium.
Source
In this clip, Mrs. Chiam can be seen supporting Mr. Chiam — following his weaker health due to a mild stroke.
Their relationship is so heartwarming to see, we can already feel the frost around our cold hearts melting away.
BONUS: Indranee Rajah
Okay well, this one's a bonus. Some people need support behind-the-scenes, while others do just great by themselves.
Ms. Rajah is a great example of an independent woman that is a powerhouse on her own, without any support from a spouse.
Source
She's the Senior Minister of State for Finance, currently working on Budget 2018. If your taxes don't go up, she's the one you're gonna want to thank.
What's great is that Ms. Rajah still lives with her mother, which is super cute and filial of her.
Sometimes, all you need is family. And of course, her strong family ties have led her to advocate more for Seniors who need help.

You go, girl
Source
Forever alone?
Okay, in all honesty, this list has made us feel more #foreveralone than ever, considering it's Valentine's Day.
Source
At least we'll take comfort in knowing that these couples' relationships are great, while we lay in bed and binge-eat McDonald's and spend 8 hours on Netflix.
To all the couples, have a great time with your better halves.
To all the singles out there, Happy Valentine's Day from the MustShareNews team. Don't forget to dig into some ice cream.
Featured image by Juskawaime and NLB.