Thunderstorm Galore Creates Damage Like A Hammer Down From Thor
Located 127 kilometres north of the Equator, Singapore's tropical characteristics are highly favourable conditions for the formation of lightning-producing thunderstorms.
Thus, in addition to many titles held by this country, the island also has another for being one the highest occurrence of electrical activity in world.
Annually, Singapore experiences roughly 168 thunderstorms, making the chances of things being struck by lightning substantially high.
And although Singapore is well protected from lightning attacks, it is still not sufficient enough to prevent some of these quirky incidents from happening.
Here are some lightning strikes that resulted so much more than just a thunderous boom:
1. Merlion
In February 2009, the Merlion Statue located at the Merlion Park was struck by lightning leaving behind two holes atop the national icon's head.
Debris from the poor Merlion's head also went to create another hole the base of the statue.
In an extract of the news report regarding the incident, some onlookers went to seek immediate shelter upon hearing the explosion, while others remained around Merlion Park to document this rare occasion.
Thanks to the quick work of workers, the Merlion managed to recover back to full photo-worthy strength not long after the incident – this time with appropriate lightning protection.
2. The Singapore Exchange (SGX)
The SGX came to a complete halt for three hours when systems failed to cope with the sudden increase in voltage as the building received an unexpected jolt of lightning in November 2014.
As a result to the outage, affected businesses incurred an accumulative estimated lost of $1 million.
Further preventive systems and protocol has since been developed by the relevant authorities so as disallow such incidents to reoccur.
Nevertheless, it seems that money isn't safe from the might of Zeus.
3. Instagram Tree
Not even Singapore's most adored tree was spared.
Much to the sadness of many, this lone Albizia tree was literally killed after being struck by lightning.
HDB mentioned specifically that the tree was "certified dead" – the humanising language, much similar to the use in death certificate, giving a clear indication of the special meaning it had to many Singaporeans.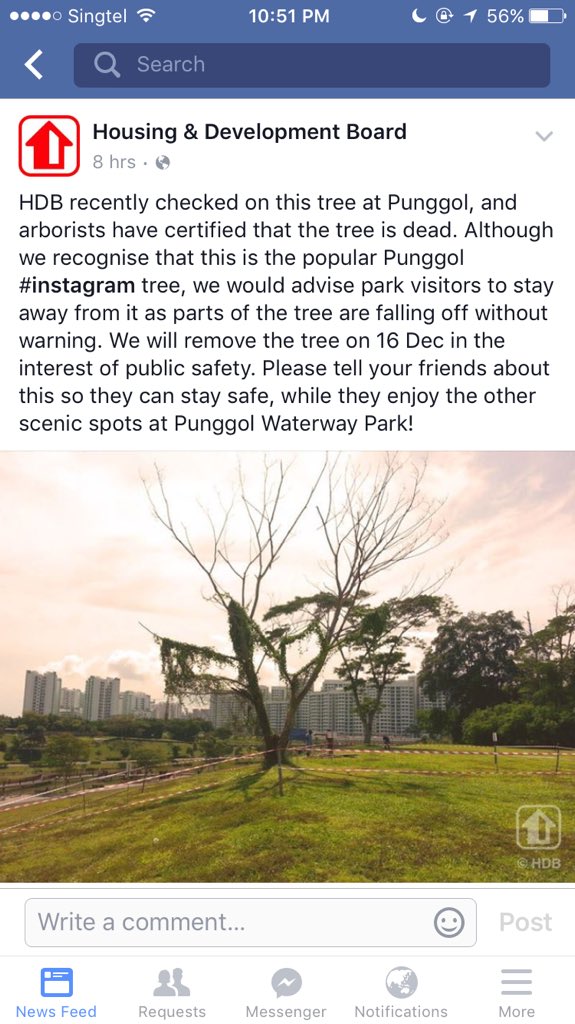 Despite the warning to stay clear, it did not deter people away from capturing their last moments with the lonely tree.
It was officially taken down officially on the 16th of December 2015. RIP.
4. Singapore Flyer
It's a well-known rumour that if you're not the tallest object around, you are unlikely to be stricken by lightning.
Whether or not that is true, the two of the tallest structures in the Marina Bay Area, the Singapore Flyer and the Marina Bay Sands Hotel, are indeed prone to lightning attacks.
It was once reported that a lightning strike on the Singapore Flyer caused the wheel to stop functioning momentarily, however that report has since been taken down and cannot be found.
Thankfully, somebody's got it on YouTube, and seeing the strike makes for some amazing viewing.
Nevertheless, it is key to note that passengers on the Singapore Flyer are more protected from lightning strikes than patrons atop the Marina Bay Skypark.
Although measures are in place to reduce the risk of a lighting attack, lightning can strike at anytime without prior warning.
So if you're on the Skypark and it's thundering, stay inside.
5. MRT
Lightning has struck the MRT network causing stalls and delays on two separate occasions in 2016 and 2017.
The god of thunder might not have directly hit a train, but there was damage to trackside equipment and caused a delay.
Being chiefly powered by electricity, the MRT system is especially susceptible and sensitive to lightning attacks.
Many people love Thor, but if he could stop zapping trains and add more misery to an already miserable MRT, that would be great.
Because even if it wasn't struck by lightning, the MRT would still have plenty of problems to contend with.
6. Stevens Road
During yet another flash flood along Orchard Road in April 2017, residents along Stevens Road found that a lighting strike blasted a wall that subsequently threw debris along a stretch of the street.
You do not want to be casually strolling along here when it happens – a prime example of how lightning can endanger, even if you weren't directly slammed by the bolt.
7. Singapore Airlines
Finally, our highflying national carrier Singapore Airlines have its own fair share of lightning scares.
Inbound from Kuala Lumpur, SQ 107 was struck by lightning moments before touching down at Changi Airport.
Thankfully, the plane landed safely with everyone on board unharmed.
Commercial airplanes are designed to be able to shrug off a lighting strike, yet the uneasy feeling of being so open to lightning while flying does present an undeniable fright of flight.
Keeping Safe
Given how often Singapore experiences rain, thunder and lightning are bound to come along as well. And with our dense architecture, some things will definitely be hit from time to time.
It seems that lightning won't give us a break anytime soon, so we'll just have to take the necessary precautions so that we don't find ourselves in a state of shock.
Featured image via YouTube.