Malaysia's Last Sumatran Rhino, Iman, Dies At Age 25
Yesterday (23 Nov) was doubtless a sombre day for those at Borneo Rhino Sanctuary in Sabah, Malaysia. The last Sumatran Rhino in Malaysia, Iman, passed away at 5.35pm at the age of 25.
Experts estimate less than 100 Sumatran Rhinos survive in the wild, with some putting the number even lower at 30.
According to Sabah State Tourism, Culture and Environment Minister Christine Liew, Iman's death was a natural one, and they categorised the immediate cause as shock due to a growing tumour in her bladder. She also said that the rhino had received utmost care and that "no one could have done more."
Source
Suffered because of tumour in her bladder
Towards the end of her life, Iman did not have it easy. In 2017, she suffered severe bleeding from a tumour in her uterus. Officials say her demise came from the growing pressure of the tumour in her bladder, sending her into shock and eventually, death.
Since 2017, there were only 2 rhinos in the sanctuary — Iman and a male named Tam. In May this year, however, Tam passed away due to prolonged liver and kidney damage.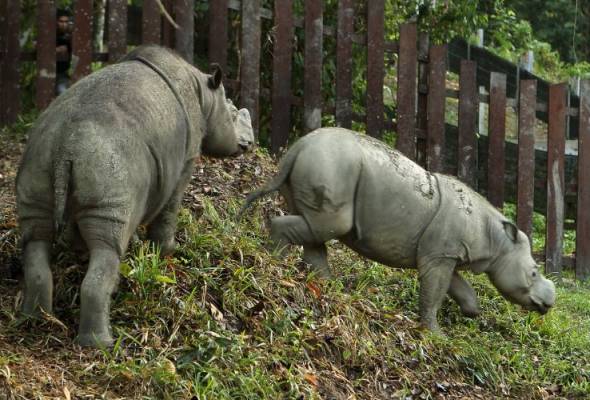 Tam on the left
Source
According to The Straits Times, Malaysian authorities are hoping to obtain egg cells from Iman for preservation of the species. However, they will first have to discuss the possibility with their Indonesian counterparts.
A near-extinct species
The surviving rhinos live scattered in Indonesia's forests and national parks.
The species had seen a drastic decline in the past 2 decades because of poaching — killing off more than 70% of the species. The Sumatran Rhino was declared extinct in the wild in Malaysia, with a few taken into sanctuaries for protection.
Fewer than 80 Sumatran rhinos survive in fragmented populations in Indonesia's Bukit Barisan, Gunung Leuser, and Way Kambas National Parks, and a small population was recently found in central Kalimantan.
They usually live between 35 to 40 years old, which means Iman's death came, unfortunately, too early.
To help the cause, you may choose to 'adopt a rhino', where proceeds will go into funding the Sumatran Rhino Sanctuary (SRS) in Indonesia as well as breeding efforts.
Let's hope the remaining rhinos will remain healthy and start to revive the dwindling population.
Featured image adapted from WWF.