Nexcare Supplies Masks For Women Who Wear The Hijab
The Wuhan coronavirus is rapidly spreading and some Singaporeans have been queueing at pharmacies to get their hands on masks for themselves and their families.
Masks are meant to work for everyone, but we do live in a multi-cultural country and there is a specific group of people who may have difficulties with them.
Lots of Muslim women here wear hijabs, which cover their ears. Since typical masks are designed to hook around your ears, it's difficult for hijab-wearers to use them.
Nexcare realised this predicament, and came out with this mask for hijab-wearers in 2019.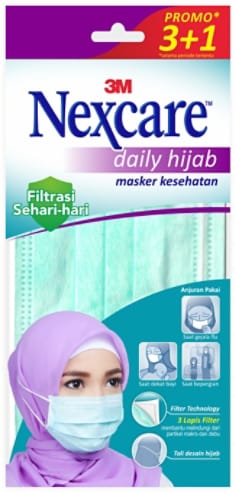 Source
With these specially-designed mask, hijab-wearers or hijabis as they're called, need not worry about the masks slipping off every five seconds.
Newly-designed mask for hijabs
This mask tackles the slipping-off problem with a simple and effective tweak to its design. In addition to ear loops, the mask has a band that goes around your head.
This way, hijabis can easily slip the mask over their heads and don't have to constantly adjust to keep it in place.
Source
It's a small change, yet it makes a huge difference to the user-friendliness of the mask. The best thing is, it's suitable for non-hijab wearers too.
Masks sold out in Singapore
Unfortunately, the mask is sold out across most of Singapore stockists.
That said, if you have family in Malaysia or plan to make a trip there soon, they're still available on some Malaysian retailer websites. Shopee, HappyFresh and Tokopedia have limited stocks available, so snap them up while you can.
At around S$1.50 (RM4.50) for a pack of 6, they're relatively affordable. It may be a hassle to get them from Malaysia, but it's definitely a small price to pay for convenience and keeping yourself free from the virus.
Alternative ways of getting the mask
If you don't have any contacts in Malaysia whom you can get the masks from, try Airfrov. It connects you with people overseas who can help you buy whatever foreign good you need.
To get your item, you can opt for a meet-up, self pick-up or courier service. They do charge a slight premium, but it's a reasonable amount.
Here's an infographic from their website about how to use Airfrov.
Source
Request for local drugstores to stock the hijab masks
Those who are adamant on getting the masks stocked here can try writing to our local drugstores and request for them to bring it in. You never know, they might just respond to our requests and start stocking them. There's no harm in trying.
For all you know, we might see the masks in stores before the entire ordeal blows over.
Until then, remember to observe good personal hygiene. A mask can't save you from the virus if you don't try to save yourself from it.
Featured image adapted from Shopee and Gabra.