Adorable Boba Tumblers Let You Pretend To Sip BBT When You Drink Plain Water
Addicts who require blood type BBT+ transfusions daily, know how difficult it is to sustain the pricey endeavour.
This gets even harder, when new BBT franchises arrive in Singapore with crazy concoctions that spark insane queues every other week.
A panacea to your boba addiction is thankfully, now a reality.
Source
You can make the simple act of drinking plain water reminiscent of popping a few tapioca pearls, with the help of this adorable Boba Tumbler by Smoko.
Source
We've taken a look at their latest catalogue, and discovered a slew of other merch we're sure will make perfect gifts for the BBT or dim sum-loving fam — including a squishy XLB night light & air purifier to make the haze more bearable.
Pearl boba tumbler with a gem-cut lid
We love that this pearl boba tumbler comes packed with a wide-enough reusable straw so you can comfortably slurp up your favourite jellies or pearls, while cutting down on plastic waste.
Pearl Boba Tumbler – S$23.17 (US$17)
Source
You may find the unassuming smile on this adorable BBT cup familiar, since their creators also birthed the incredibly cute – but a tad useless – boba night light.
Pearl Boba Night Light – S$21.80 (US$16)
Source
BBT pencil case with hidden pearls
The same smile is extended to this BBT pencil case, but it could be a clever misdirect for a secret feature — the pouch can be extended to reveal hidden pearls below.
Pearl Boba Pencil Case – S$24.53 (US$18)
Source
The transformable pouch can be used two ways. First, without extending the pocket, the case acts like a quaint case to store your stationery.
Source
But when you pull on the straw, the pouch pops open to reveal a hidden compartment below — upsizing your 'drink' if you will.
Source
The surprise element reminds us of the genuine joy we get from poking around in a near empty BBT cup with a straw — only to discover a hidden pearl sandwiched between 2 slabs of ice.
Boba night lights have a new XLB dumpling BFF
This set of Boba night lights by Smoko went viral in Singapore for customisable pearl shadows cast within the cup — thanks to modular black marbles inside them.
Giant Boba Night Light – S$51.79 (US$38)
Source
You can top up S$5.45 (US$4) to get the small Boba tea lamp along with the large one. If you prefer not to upsize your Boba lamps, regular-sized Boba night lights go for US$16.
Pearl Boba Night Light – S$21.80 (US$16)
Source
But we'd like to draw your attention to its BFF of sorts — a round and warm XLB soup dumpling that shares the same blushing smile & own line of merch.
XLB Dumpling Night Light – S$21.80 (US$16)
Source
The XLB dumpling night light packs an iridescent glow, behind its charming 'solid' facade.
Source
Resembling the texture of an actual dumpling, the night light is 'oh-so-squishy' to the touch.
Source
Smacking the top of the dumpling gently will also allow you to switch between coloured lights easily, from neon blue to shades of pink.
Source
Those without room on their table for a larger XLB dumpling light, can opt for the mini-nightstand instead.
Mini-XLB Dumpling Flexi Night Light – S$21.80 (US$16)
Source
The precious mini-XLB dumpling is set carefully on the lid of a steamer tray, overlooking your book as a reading light.
Source
Now you'll have one additional reason to dim sum lights and read a book at night. Do note that this light is sold out at the moment, but you can request to be notified when it's available here.
'Steaming' dumpling air purifiers & glow-in-the-dark diffusers
Our personal favourite, has got to be the dumpling air diffuser that appears to be 'steaming' from its top.
XLB Dumpling Air Diffuser – S$53.15 (US$39)
Source
We'd imagine plugging it in on a day when the heat – or haze, touchwood – gets unbearable. Watching your little XLB companion keep the air in the room fresh, will definitely put a smile on the grumpiest of guests.
XLB Dumpling Air Purifier – S$47.70 (US$35)
Source
Both the air purifier and diffuser glow-in-the-dark too, so you won't have to fumble around at night to turn them off.
Boba cups & dumplings to adorn your phones
Whether you're a stronger advocate of BBT or XLB, we're sure you would appreciate these Bubble tea Airpod cases & phone grips.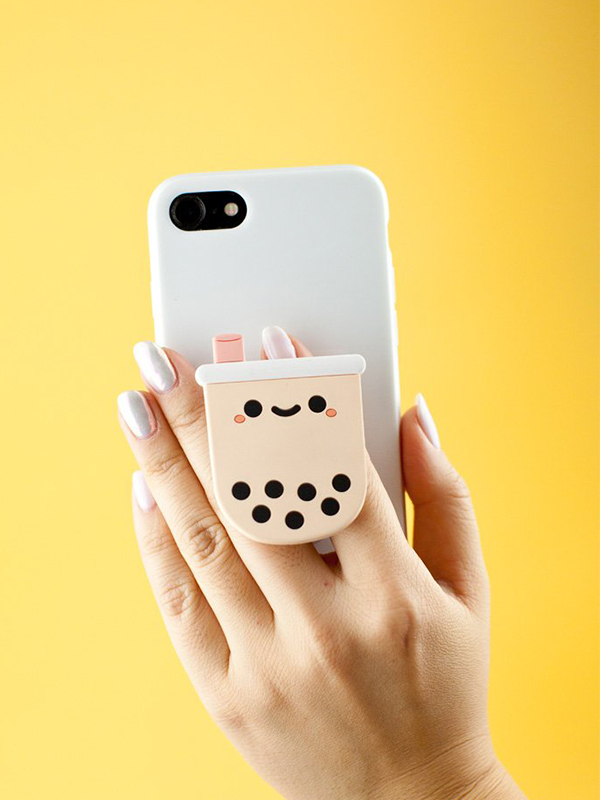 Pearl Boba Phone Grip – S$12.27 (US$9)
Source
If you're interested in a more detailed review, our friends over at ZULA have written more extensively about them here.
Pearl Boba & XLB Dumpling Airpods Case – S$20.44 (US$15)
Source
Direct shipping to Singapore is available
Direct shipping to Singapore is available on Smoko's website, but we'd advise you to jio your friends and order all your items at one go. Based on multiple reviews, shipping from the US can get quite costly. So it'll be much easier on your wallets to split the costs with your BBT or dim sum kakis.
A detailed quotation on shipping will be given when you've checked out the items in your shopping cart. Head over here for more details onsite.
Boba & dumpling life 4eva
We can only conclude by saying that the thirst for BBT is real, as the boba craze continues to spread all around the world.
With Halloween and Christmas just round the corner, we'd keep an eye on this store for further festive releases.
Are you team XLB or team BBT? We'd love to hear which line of merch you think is cuter in the comments below.
Featured image adapted from SmokoNow.